Statue of Thomas Paine unveiled in Lewes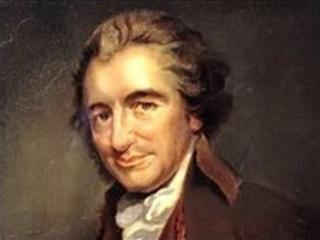 A statue of revolutionary thinker Thomas Paine has been unveiled in East Sussex.
The figure of the "father of the American revolution" which now stands outside Lewes library was created by local sculptor Marcus Cornish.
Paine lived in Lewes for six years in the 18th Century, which was when he developed his political ideas.
In 1774, the exciseman left Lewes for America and was propelled on to the world stage.
His writings are still used in the political arena and were quoted by President Barack Obama in his inaugural address.
During his adult life, Paine also lived in Sandwich and Margate, in Kent.
Private donor
Tony Benn, vice-chairman of the Tom Paine Society, who unveiled the statue on American Independence Day, said: "Whenever I think of Lewes, I think of Tom Paine, and whenever I think of Tom Paine, I think of Lewes."
He added: "I was honoured some years ago to speak at the society he was part of, the Headstrong Club, where he developed a lot of his ideas.
"Paine is important not only because of what he did, but because of what he said."
Lewes council said the statue was commissioned by an anonymous private donor, who lived locally and had followed Marcus Cornish's work and also felt that the town needed a sculpture of Thomas Paine.
Cornish created the sculpture from prints and paintings of Paine, to mark his life and his involvement in the French and American revolutions.
Paine lived in Lewes from 1768, during which time he was appointed as an excise officer and where he wrote his first political work - a 21-page pamphlet that demanded better pay and conditions for his fellow workers.
His move to America was on the advice of Benjamin Franklin, one of the founding fathers of the US.