Apprentice winner Tim Campbell to boost trainee numbers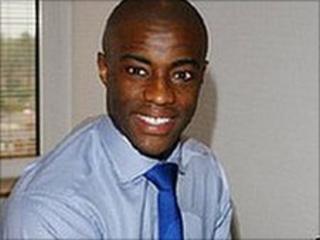 The winner of the first BBC Apprentice series is to front a campaign to boost the number of trainees in London.
Tim Campbell, who won the show in 2005, has been recruited as mayor Boris Johnson's ambassador for Training and Enterprise.
It is part of a drive to create more apprenticeships and training opportunities across the city.
Taking on the unpaid role Mr Campbell said developing ideas put forward by trainees would be a key focus.
'Important challenge'
His skills will also be used to inspire businesses and Londoners to develop and become involved in new training opportunities.
Speaking about his appointment Mr Campbell said London was a city of opportunity brimming with ideas and talent with a hidden pool of untapped talent.
He said: "The key to unlocking it is the development of real in-work training initiatives that allow people to realise their potential and businesses to develop those home-grown skills to the benefit of the company.
"Some of those on apprenticeships will come up with bright ideas for creating wealth and this will also be a key focus for me."
Mayor Boris Johnson said it was essential to "step up a gear in our drive to create more training opportunities across the city" and that Mr Campbell was "incredibly suited to this important challenge".