Murder inquiry after man stabbed to death in Coventry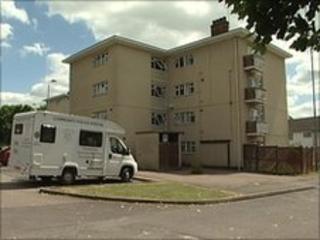 A man has been found stabbed to death at an address in Coventry.
Police started a murder inquiry after 47-year-old Peter Wilson's body was found at Honiley Court, Lillington Road, during Friday morning.
Police said he was last seen on 30 June. A post-mortem examination revealed he died as a result of being stabbed.
A 54-year-old man and a woman aged 33 - both from Coventry - have been arrested on suspicion of murder.
Mr Wilson was seen at around 1300 BST last Wednesday and police are looking for anyone who saw him that afternoon or on Thursday morning.
They would also like to hear from anyone who knew him and who might have information which could help the investigation.