Orkney woman conscious during brain tumour operation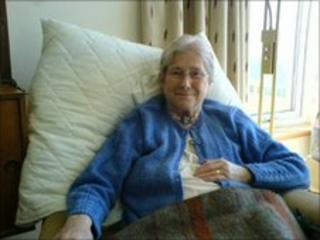 A retired teacher from Orkney is recovering at home after having a brain tumour surgically removed while fully conscious.
Sally Heddle is one of only three people who have elected to have brain surgery at Aberdeen Royal Infirmary without general anaesthetic.
The procedure is carried out while the patient is conscious so that surgeons can be guided by their reactions.
The 74-year-old was able to chat to medical staff during the operation.
The former teacher - who was made an OBE in 1992 for her charity work - has amazed doctors by quickly regaining her speech.
She described the operation as "extremely exciting".
The surgery was carried out by a team led by consultant neurosurgeon Mahmoud Kamel, who explained that the brain itself had no pain receptors and did not feel pain like other parts of the body.
He said brain surgery on a conscious patient meant that the medical team were able to get instant feedback.
Mrs Heddle was enthusiastic about the procedure.
"I didn't hesitate for a minute," she said.
"It was wonderful to have a role to play in my own brain surgery."
Sally, who has Multiple Sclerosis, said that although she had lost the ability to read and write the experience overall had been positive.
"There's no point in feeling sorry for yourself," she said.
"As far as I'm concerned this is a reprieve and I'm making the most of it."