Jedward brother Edward Grimes hurts leg in fall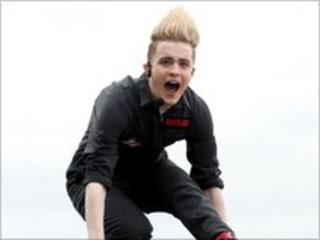 Pop star Edward Grimes was taken to hospital after falling awkwardly during a dance routine in Sunday's T4 On The Beach concert at Weston-super-Mare.
Grimes, 18, half of X-Factor novelty group Jedward with his brother John, slipped during a performance of their medley Ghostbusters/Under Pressure.
He was taken to Weston General Hospital for X-rays after the event held on the town's beach, but was later released.
The duo's agents could not confirm what injury Edward had suffered.
Reports suggested that the Irish-born star suffered twisted knee ligaments.
The concert, filmed live for Channel 4, attracted 40,000 fans.