Doctor probe covers 786 patients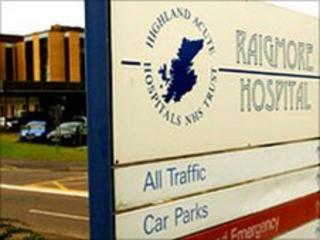 Almost 800 patients have been contacted as part of an investigation into the work of a locum consultant radiologist.
NHS Highland said the doctor had carried out duties at Raigmore Hospital in Inverness between 5 and 16 April this year.
Other staff had raised concerns after identifying "discrepancies" in two patients' cases.
NHS Highland said it had written to 786 patients to let them know their cases were being reviewed.
The locum was hired from an agency to look at images from X-rays, MRI and CT scans.
NHS Highland said he was registered with the General Medical Council and had the appropriate references for the tasks he carried out.
The health board expected all cases to have been reviewed by mid-July.
Medical director Dr Ian Bashford has tried to reassure patients involved.
He said: "We acknowledge that patients receiving letters may be anxious and we would like to reassure them that X-rays and other radiological investigations are only one part of the whole process of assessing, diagnosing and treating patients and their condition.
"Most of the patients will have already received the appropriate care and treatment."