Thailand urged to lift emergency rule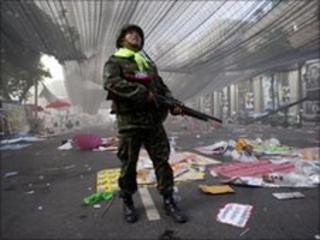 Thailand's government has been urged to lift a state of emergency and drop terrorism charges against leaders of recent anti-government protests.
The International Crisis Group (ICG) warned the "legitimate frustrations" of protesters were "being forced underground and possibly towards illegal and violent actions".
The decree has been in place since a bloody military crackdown on 19 May.
Thailand's prime minister told the BBC the situation was being addressed.
Ninety people died and 2,000 were injured during the two months of protests, which blocked off the commercial centre of Bangkok.
More than 400 people have been arrested under emergency law, which has handed sweeping powers to the police and military.
The leaders of the so called "red-shirt" anti-government movement are still in prison on charges which carry the death penalty.
Reconciliation
The state of emergency imposed on 24 provinces, including the capital, is due to expire on 7 July.
In an interview with the BBC's Alastair Leithead, Prime Minister Abhisit Vejjajiva said the decree would be lifted in some provinces this week.
He has announced a commission to investigate the facts surrounding the demonstration, the way the military used live rounds to break it up and how a huge shopping centre was burned down.
Other government appointed panels will also consider how to start a reconciliation process and reform the media.
"It's not about one side, we're reaching out to everybody and we [will] try to address the grievances of all groups," Mr Abhisit told the BBC.
"I think we have identified all the points that have given rise to the conflict, legitimate grievances, and we have set up mechanisms to address those grievances."
A report by conflict prevention experts at the think tank, the ICG, called for emergency rule to be lifted, warning that the "legitimate frustrations" of the anti-government movement were "being forced underground and possibly towards illegal and violent actions".
The report, Bridging Thailand's Deep Divide, calls for an end to the "sweeping ban" on opposition media outlets.
Many community radio and TV stations that supported the red-shirt movement - which is demanding the prime minister steps down - have been closed by the government.
The ICG also wants to see terrorist charges dropped against protest leaders, including former prime minister Thaksin Shinawatra, who is in self-imposed exile avoiding jail for corruption while in office.
Mr Abhisit said he aimed to allow for more public discussion in the media, and that grievances such as economic inequality and other issues that contributed to the protests would be looked at.
"We think all the major points are covered, we are moving ahead, we think that the Thai public also wants the country to get ahead as soon as possible," he said.