China shares fall to 15-month low on slowdown fears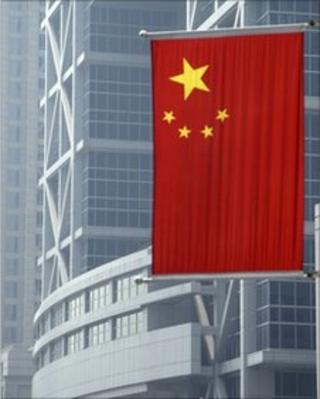 The Shanghai composite index has closed at a 15-month low after data pointed to slowing growth and rising inflation.
The index dropped 19 points or 0.8% to 2,364 at the end of trading, its lowest close since April last year.
Shanghai was one of the first markets to recover after the global financial crisis, but peaked in August last year. It has since fallen 32%.
Growth in passenger car sales slowed in June, the latest sign that China's high speed economy may be cooling down.
'Sharp' slowdown
Car sales rose 10.9% in June compared with a year earlier, down from a growth rate of 25% in May.
On Thursday it was reported that the Purchasing Managers' Index (PMI), which gives an indication of the health of the manufacturing sector, fell to 52.1 in June from 53.9 in May. Anything above 50 shows expansion in manufacturing output.
Then on Monday, HSBC announced that a similar index that it produces for the Chinese service sector fell to a 15-month low of 55.6 in June from 56.4 in May.
"The Chinese stock exchange has had a pretty horrific year so far," said Dariusz Kowalczyk, China economist at Credit Agricole in Hong Kong.
"The economy is still growing, but it is slowing very sharply," he explained to the BBC.
Government spending
He said the slowdown had been evident for some time in "soft" data like the PMI surveys, which measure business sentiment.
But the June car data release marks the first time that the slowdown has shown up in "hard" data that measures economic output.
Mr Kowalczyk believes that the slowing pace of the economy is mainly down to a fall in government spending compared with last year.
Beijing ramped up spending, particularly investment in new infrastructure, in response to the global recession.
But the current fiscal expansion programme is winding down, and will expire at the end of this year.
Moreover, Mr Kowalczyk said that while the slowdown in the US economy had not affected China yet, it would probably hit Chinese exports in the second half of the year, slowing Chinese growth further.
"I think it is inevitable that that there will be a new fiscal stimulus programme next year," he added.
Inflation dilemma
But Beijing also faces a serious policy dilemma, thanks to accelerating inflation.
The Consumer Prices Index (CPI) increased at an annual rate of 3.1% in June - above the Chinese central bank's official target of 3%.
More worryingly, producer price inflation - the cost of goods leaving the factory gate - rose to 7.1% in June.
"There is concern about inflation because of social reasons," says Mr Kowalczyk.
Higher CPI inflation raises the cost of living for Chinese households and erodes the value of their savings.
Policy options
Beijing's recent decision to allow more flexibility in the exchange rate of the Chinese currency should help slow inflation.
A rising yuan lowers the price of imports and cools demand for Chinese exports.
However, the Chinese authorities have only allowed the yuan to rise very gradually - the currency is up 0.9% against the dollar since the new more flexible policy was announced last month.
Other options to rein in inflation may include raising interest rates and ordering banks to further cut back lending.
However, whatever the Chinese government chooses to do to address inflation, it will also inevitably involve constricting growth in the second half of the year.
"They are hesitant about imposing higher borrowing costs on Chinese industry," notes Mr Kowalczyk.