Homeless killings strike fear in Colombo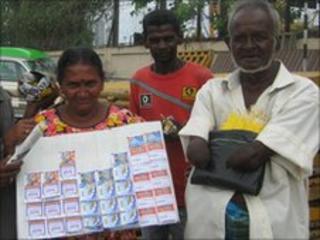 In a horrific development in Sri Lanka's biggest city, at least seven homeless people or beggars, most of them disabled, have been murdered in the space of a few weeks.
The murder methods have been particularly violent, the victims crushed with rocks or beaten with poles as they slept.
The money they had on them is stolen.
The police have not yet solved the killings.
Just days ago the body of Manoj Kumara, a 38-year-old who had sold lottery tickets in the street for 20 years, was found in a doorway in the southern suburb of Mount Lavinia.
He was disabled and the tricycle he used was beside his body.
Watched by a crowd at the scene, Manoj's mother wept for her son - the latest person working or living in the streets to be murdered.
"He didn't have enemies," she cries. "We don't know what happened to him."
Like several of the victims, Manoj was killed especially brutally - with a rock which now lies in two pieces by the bloodied corpse.
Insecure existence
Two killings happened in Kotahena, a poor part of the inner city. I visit one of the murder spots, a small back street where a homeless labourer was killed, also by crushing, in the door of a steel merchants', apparently as he slept.
A mile or so away by the big Catholic church and shrine of St Anthony, there is a community of beggars, homeless people and others who ask for money on the streets.
Some are badly disabled - as were most of the murder victims.
They appear to care for each other. They already lead an insecure existence, afraid of being moved away by the police, who say begging is illegal.
Some of these people say are not afraid because they can protect each other. But for others, fear is mounting, says a disabled beggar, AD Gamini, who uses a hand-powered tricycle.
"Some of us live in fear," he says.
"Those who don't have houses are scared because they usually sleep on the pavement. I am going home soon now to avoid it.
"I don't know why they kill disabled people like us."
Hard to protect
Police spokesman Superintendent Prishantha Jayakody told the BBC that to try to catch the criminals some of his staff are now sleeping in streets pretending to be beggars. He says they have already arrested one man who he believes is guilty.
But the murders have continued and some believe a serial killer is at large.
Lakshan Dias, a community lawyer, says a pattern is emerging.
He believes Sri Lanka's post-war situation has left violent people and groups with more time on their hands and believes "there is a well-organised group behind it".
"This kind of brutality cannot come from an ordinary citizen. [It] cannot come from a fellow beggar.
"This kind of brutality cannot come from someone who wants to rob. It's beyond their capacity. It is some kind of people who have capacity who are doing these things," he says.
But who?
The police have a macabre mystery to deal with.
Supt Jayakody admits it is hard to protect homeless people because, he says, they sleep in many places. But he says the police will "definitely" trace the killers.
Mr Dias worries, however, that there is not sufficient social concern for these people when they fall victim.
Politicians in recent years have described beggars as a "nuisance" or an eyesore, and in the past they have been periodically deported to a notorious camp far away in the south of the country.
The Hong Kong-based Asian Human Rights Commission (AHRC) says this was done during the IIFA (Bollywood Oscars) event here last month.
It also expressed concern that the Prime Minister, DM Jayaratne, alleges that members of the defeated Tamil Tiger rebel movement are posing as beggars to gather information. The AHRC said such remarks were creating "the climate for killing".
With one or two exceptions, the media here have devoted little attention to these killings.
"Beggars are no people; beggars are nobody's concern," says Mr Dias.
"It's shocking."