Concert in Sderot to support Israeli soldier Shalit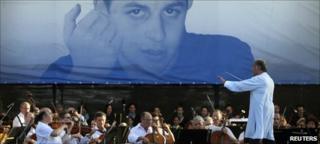 A classical concert in support of captured Israeli soldier Gilad Shalit has been held in Sderot on the border with Gaza.
Before the performance, Sgt Shalit's family and supporters visited the site of his capture along the border.
He was seized by Palestinian militants on a raid into Israel in June 2006.
Sderot has been hit regularly by rockets from Gaza since 2000 and, while numbers have fallen, Israel has reported 80 attacks to date this year.
The free concert was attended by thousands of people including a number of Israeli politicians and foreign diplomats.
"It is a gesture for this young man and his family in order to tell the world that four years without a single visit is too long," said the conductor, Zubin Mehta, before the Israel Philharmonic Orchestra played.
"We have an obligation to dream and we want Gilad Shalit, in the first instance, to receive Red Cross visits, and then to be freed as soon as possible."
Israel marked the fourth anniversary of Sgt Shalit's capture on 25 June.
The soldier's family started a 12-day march last week from their home in northern Israel to Jerusalem to protest against his capture and put pressure on the Israeli government to secure a deal for his release.
Monday was the ninth day of the march. Gilad Shalit's father, Noam Shalit, called on Israeli Prime Minister Benjamin Netanyahu to use all resources to free his son.
Speaking at the site of his son's capture, he said: "Gilad is physically close to us but at the same time very far from us.
"If people had done the right thing back then, Gilad would be with us now."