No concern over London Olympic budget, says IOC chief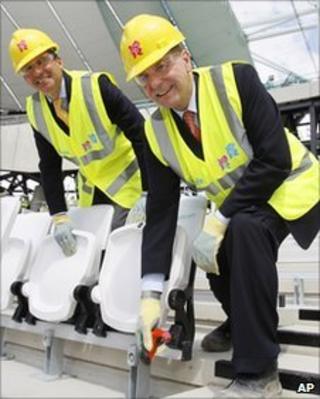 International Olympic Committee (IOC) chief Jacques Rogge has dismissed fears over cuts to the 2012 budget.
Mr Rogge was visiting the Games' east London site when he described the budget as "lean" but "sound" despite a £27m cut by the UK government.
He also said he was impressed that work on the showpiece stadium was "so far advanced".
"First priority is to work hard. The second priority is to work hard and the third priority is work hard," he said.
He spoke as helped to screw in the 2012th seat inside the Olympic Stadium.
"This is the last straight and everyone knows that the last straight is often the hardest one."
Mr Rogge was in London as the IOC's co-ordination commission of inspectors begins a regular three-day check-up of preparations for the London 2012 Games.
'Beautiful stadium'
His tour of the Olympic Park in Stratford, where more than 65% of the venue is already Games-ready, also included a look at the athletes' village.
He added: "I think the budget of the Olympic Delivery Authority, including the cuts requested by the government of £27m, is a sound budget.
"Already the ODA have cut costs of £600m. They have a lean budget and the same for Locog.
"We are at a point where every pound has to be very well spent."
Talking about the main venue, Mr Rogge said: "This is a beautiful stadium and I think it is going to be a great legacy for the city."
No firm decisions have been made on how the stadium will be used after the Games to ensure it is economically viable, although West Ham United football club are interested in moving in.
Legacy fears
The future of the Olympic Stadium after the Games will include track and field, Mr Rogge stressed.
Having an athletics track was one of the promises London made to the IOC during its Olympic bid.
But BBC London has learned the company responsible for doing the deals to sell or rent out the venues after the event does not yet have ownership of the land.
The previous government promised to transfer the land to the Olympic Park Legacy Company.
But the new administration is yet to commit to doing so.
Baroness Ford, chairwoman of the company, said: "It prevents us going to the last stage, for example, in the negotiations to sell the stadium.
"We need the freedom to go ahead and cut all of these deals.
"Nobody wants these venues left empty."
A spokeswoman from the Department of Communities and Local Government said: "The government set up the Olympic Park Legacy Company over three years before the Games, and it has plans well underway for ensuring a lasting legacy for the park.
"There are some financial and technical issues yet to be resolved around the transfer of land into the company, but they are in the final stages of being resolved. "