Channel Island ferry back in service after fire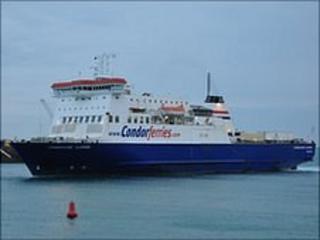 The Commodore Clipper, which operates between the Channel Islands and the UK, has returned to service after a fire.
The freight and passenger ferry has been out of service since the fire, which broke out in the lower vehicle deck, on 16 June.
The ship sailed from Portsmouth on Saturday morning, arriving in the islands in the late afternoon.
Simon Edsall, Condor Ferries managing director, said: "We have worked very hard to get her ready for service."
He said: "Thanks to the effective use of the ship's drenching systems to control the fire and the fire fighting undertaken by both the crew and Hampshire Fire and Rescue Services, the damage to Clipper was minimised."
The repairs included work on the ship's electrical systems, the replacement of a section of the vehicle deck and cleaning of the passenger areas, which were not directly affected by the fire.