Two French junior ministers quit over perks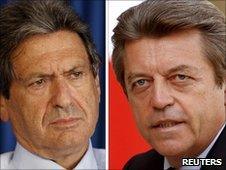 Two French junior ministers embroiled in separate spending scandals have resigned from the government.
President Nicolas Sarkozy and Prime Minister Francois Fillon had decided that the two ministers must go on Sunday, a government spokesman said.
Overseas Development Minister Alain Joyandet was criticised for spending 116,500 euros (£96,153) on a private jet to fly to the Caribbean for work.
Greater Paris Minister Christian Blanc spent 12,000 euros on cigars.
The spokesman, Luc Chatel, said Mr Sarkozy and Mr Fillon had "decided to address the consequences of the events of the past few days, that the French people neither understand or accept".
"After much thought, they asked Messrs Joyandet and Blanc, after having spoken with them, to resign," he said.
Labour Minister Eric Woerth has also been in the media spotlight in connection with a court case involving France's richest woman, L'Oreal cosmetics heiress Liliane Bettencourt.
It has emerged that the minister's wife worked for a firm that managed Ms Bettencourt's wealth.
Last week the French authorities ordered a full review of the tax affairs of 87-year-old Ms Bettencourt. Opposition politicians have asked why Mr Woerth never ordered that review while budget minister in 2007-2010.
Meanwhile, President Sarkozy has cancelled the traditional Elysee Palace garden party on Bastille Day - 14 July - amid public concern about official spending while taxpayers face painful austerity measures.
Last week Mr Sarkozy told deputies in his centre-right UMP party that he was "not at all happy" with "some ministers' behaviour", the French TV channel TF1 reported.
In a letter to Mr Fillon, quoted by the French news agency AFP, the president said that "at a time when our compatriots are hit by the crisis, the state must more than ever set an example.
"Those who represent the general interest cannot be exempted from the effort demanded of the nation. They have a particular responsibility which comes with their mission - to be irreproachable in their use of public funds."
Mr Blanc has paid back 4,500 euros for the cigars he says he himself smoked, but Mr Fillon has told him to reimburse the full 12,000 euros, TF1 reports.
Meanwhile, Mr Joyandet wrote in his blog that "as a man of honour I cannot accept being the victim of allegations.
"After much thought, I have decided to leave the government," he said, adding: "not one euro of public money was used to increase my personal wealth or that of people close to me."
The BBC's Christian Fraser in Paris says there are daily revelations in the French media that heap further embarrassment on Mr Sarkozy's government.
His ratings are already at rock bottom and these are scandals he can ill afford, our correspondent says.
Related Internet Links
The BBC is not responsible for the content of external sites.