Why India Maoist leader is a 'big catch'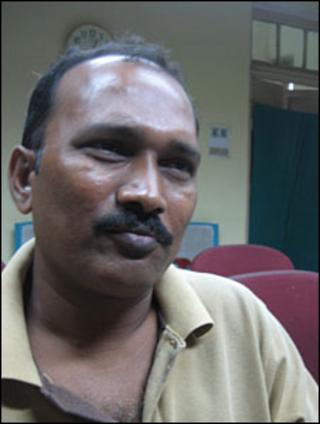 The Indian police describe him as a "big catch" - a top Maoist leader involved in at least three dozen cases of murder and attacks on security forces and a "rare combination" of an ideologue and a guerrilla fighter.
But Venkateswar Reddy, alias Telugu Dipak, flatly - and unsurprisingly - denies the charges, telling me that he never even received any arms training.
One of the leaders of the Maoist rebellion in West Bengal - one of 20 Indian states where the rebels have a substantial presence - Mr Reddy has been charged with, among other things, murder, rioting, waging a war on the state and sedition.
With 10 aliases listed in police records, Mr Reddy, who was also a member of the Maoists' central military wing, carried a reward of a million rupees on his head and was wanted by police in six states before he was arrested at a busy Calcutta bus station in March.
In a fading brown T-shirt and grey trousers, the balding 43-year-old looks more like a taciturn teacher than a restless revolutionary.
He speaks in a low, hushed voice, choosing his words carefully. His eyes narrow with a glint of steeliness when he bats away an uncomfortable question.
City-bred
Unlike the stereotype of a Maoist rebel born into rural poverty and neglect, Venkateswar Reddy is largely a city-bred child of the revolution.
He studied engineering at a polytechnic in Guntur in the southern state of Andhra Pradesh, a place better known for its chilli and tobacco than for revolutionaries.
He had finished schooling in his native village in Prakasam district, where he was born to a farm worker father and a homemaker mother, who was later disabled by an accident.
Mr Reddy remembers growing up in one room in a vast joint family mud and concrete village home and says he never faced any deprivation.
"My father owned very little land, so he mostly worked as a daily wage farm worker. I was the only child and a son, so I was fed and looked after well," he says.
Koppole, the village where was born, did not contribute to his radicalisation: the village, he says, had no big landlords - unlike vast swathes of feudal Andhra Pradesh - and the biggest landowner was even related to his family.
Mr Reddy says he became attracted to Maoism only after he went to study engineering in Guntur against a backdrop of a peasant uprising led by the rebels in the state's Telangana region.
Influenced by the writings of Karl Marx and Friedrich Engels, he joined the students' wing of the Communist Party of India (Marxist), the country's leading left-wing party, for a year before switching allegiance to the Radical Students' Union (RSU), an openly ultra-left group.
In the 1980s and the early 1990s, the RSU dominated student union politics in many colleges in Andhra Pradesh and became a nursery for budding rebels.
"I never rejected Marx. From Marx and Mao, I have been influenced by all."
During his time with the RSU, Mr Reddy says he travelled to villages and cities along the state's coastal districts signing up fresh recruits.
Outlawed
At some point during this time, he joined the People's War Group (PWG), a Maoist outfit which was leading an armed peasant movement that advocated revolution.
In the early 1990s, Mr Reddy went underground as police began a big crackdown on the outlawed PWG - he says he did not slink into the forests but moved to cities and towns along the coast.
"My life was never really in danger when I was underground. We lost many cadres in the conflict. Lots of them were arrested and killed. It was a violent time," he says.
In 1995, Mr Reddy says, he arrived in the eastern state of West Bengal. He and his fellow cadres were retreating from Andhra Pradesh as the police cracked down on the rebels there.
"It was part of the Maoist guerrilla strategy. We retreated to safe havens to save ourselves."
The police say he was accompanied by his leader Koteswar Rao, alias Kishenji, and now one of India's most wanted Maoists.
When I ask him how he gained notoriety for helping set up a base in Bengal's tribal-dominated Junglemahal region and carrying out attacks on security forces, he keeps quiet.
Police say Mr Reddy formed armed squads and hired recruits in the forested region. He also spent time in Calcutta, helping set up trade unions in jute mills and making contacts with rebel sympathisers.
According to police, he also played a role in the storming of a police camp in Bengal in February, which left 24 policemen dead, as well as in an audacious attempt on the life of Bengal's Communist Chief Minister Buddhadeb Bhattacharyya two years ago.
I ask him whether he justified violence as a means to seizing power from the state.
"Revolutionary violence is actually counter violence. It is not violence by itself. The government is suppressive, so revolutionaries have to resort to counter violence," Mr Reddy says calmly.
What about dialogue with the government? I ask. India's Home Minister P Chidambaram has said the government is ready for talks if the rebels abjure violence.
"The government is not promising to stop oppression. They are talking about talks even as they are preparing themselves militarily to take us on," he says with a hint of anger.
"They tell us to lay down arms. But without a conducive atmosphere, how can there be talks?
"Also," he continues, "what about the agenda of the talks? Why is the government silent on that."
'Resisting exploitation'
What would the rebels like to talk about if they go to the negotiating table? I ask.
"We would like to talk about big companies and multinational corporations who have signed up mining contracts with the government in areas where we have a presence. Maoists are resisting such exploitation, but the government is not listening," Mr Reddy says.
Maoist activity in India has expanded over a vast swathe of mineral-rich jungles and countryside where most of India's tribespeople - its poorest of the poor - live
"The problem is," Mr Reddy says, "our national interests are being bartered away by the government.
"Maoists are the only party which represent India's genuine national interests. Congress was a nationalist party, but they eventually compromised with the British and big capital."
These days, Mr Reddy says, he is reading the novels of Bengali novelist Saratchandra Chatterjee, known for his fiercely feminist stories, and at least one famous doomed love story.
So has the rebel softened? I ask before I leave, half in jest. Is there no scope for dialogue with the state?
"Yes, dialogue should happen. We can have talks around partial demands. The conflict could be postponed. The intensity of conflict should decrease. If such talks happen and our leadership takes a decision, the cadres will fall in line."