Sir Terry Wogan hits out at BBC star salaries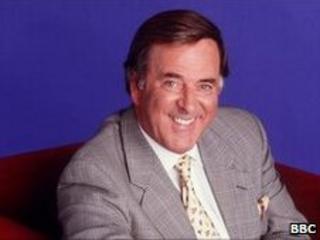 Sir Terry Wogan has said highly-paid BBC stars could afford to take a 15% pay cut.
The Radio 2 presenter told The Mail's Sunday Live magazine that "the good old days have passed".
"Frankly, salaries were far too high. They could stand to take a 10 to 15% cut. If the public sector is taking that, I see no reason why everybody shouldn't," he said.
His remarks come ahead of publication of the BBC's annual report on Monday.
Wogan, 71, said that stars should not believe they were in a "privileged position" just because they worked in television.
"You have to be responsible," he said. "The audience would be unhappy if they thought you were being overpaid. Look how the public reacted to, say, Jonathan Ross.
"If they're going to start cutting working people's wages, you can't say you're in a privileged position because you work in television."
The publication of the BBC's report follows comments on Sunday from the corporation's director general, Mark Thompson, who warned that revealing the salaries of its top stars would be "damaging and destructive".
But he did say he supported BBC Trust plans to publish stars' earnings in pay bands without revealing individual salaries.
Future of 6 Music
According to figures released earlier this year, the BBC spends £54m on its highest-earning stars.
Mr Thompson told the BBC's Andrew Marr on Sunday that the corporation's annual report will reveal the "amount of money the BBC's spending on top talent is now coming down".
BBC trustees are also taking an 8.3% pay cut for two years.
The BBC plans to cut the wages bill for senior management by 25% over three years.
Mr Marr also asked Mr Thompson whether he was still planning on axing BBC 6 Music.
"We're going to hear interim conclusions from the BBC Trust tomorrow (Monday), so let's leave that for then.
"We've got big questions about the future of digital radio, and I suspect one of the things the Trust are going to say is 'let's talk to government, let's talk to commercial radio and make sure that we've got a portfolio of radio stations".