Archbishop 'grateful' to Coventry over Pope's visit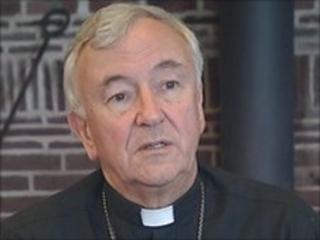 The former Archbishop of Birmingham has thanked the authorities in Coventry for their hard work ahead of the Pope's visit to the UK later this year.
It was thought that Pope Benedict XVI would hold an open-air Mass at Coventry airport in September, but he will now be coming to Birmingham.
Archbishop Vincent Nichols said he was grateful for the way they accepted the change of venue to Cofton Park.
The airport can hold more people but he said "biggest isn't necessarily best".
Archbishop Nichols, the most senior Roman Catholic in England and Wales, said he had thanked the leader of Coventry City Council.
'Real expectation'
The Pope's visit, between 16 and 19 September, is the first papal visit to the UK since that of John Paul II in 1982.
Full details of his visit will be confirmed later on Monday.
Pope Benedict XVI will use Cofton Park in Birmingham for the beatification of Cardinal John Henry Newman, who is buried nearby.
He said: "I am extremely grateful to the Coventry authorities for the hard work they have put in in preparing plans for Coventry Airport.
Archbishop Nichols, Archbishop of Westminster and president of the Catholic Bishops Conference in England and Wales, said the focus on Cardinal Newman led to a change of venue to the second city.
"Clearly there is a real expectation and many, not just the council, but many of the services as well were geared up for the event to take place in Coventry," he said.
"I think it was the desire from the people of the Holy See to associate the event very closely with Cardinal John Henry Newman personally.
"That was the main reason for moving the venue."
He said the park was a suitable and picturesque setting and he was also grateful to the Birmingham authorities for taking on the challenge of the papal visit.