Lifeboat crew helps yacht stranded off Cumbrian coast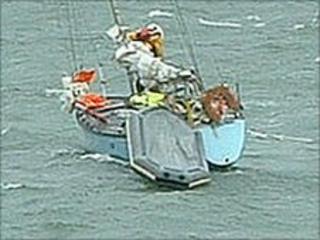 Rescuers have come to the aid of a yacht crew after its vessel almost capsized in gusty winds off the Cumbrian coast.
The racing yacht Solitaire issued a mayday call on Sunday afternoon after it turned on its side while moored near the Walney Channel.
Two vessels including the Tamar class boat, Grace Dixon, were scrambled and were on the scene within eight minutes.
The yacht was towed to safety with its two-man crew still onboard.
The Tamar class vessel is the most technologically advanced class of lifeboat produced by the RNLI.
John Falvey, spokesman for Barrow lifeboat which helped the Tamar boat crew, said: "The yacht's crew had sailed into Barrow in the early hours to avoid being at sea during an impending gale force wind.
"We took them to our casualty mooring in deeper water and they were quite happy to ride out the weather before continuing their journey in better conditions."