Welsh neonatal units 'put vulnerable babies at risk'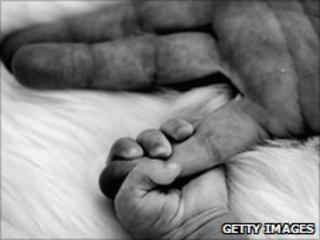 Vulnerable babies in Wales are at risk from understaffed, ill-equipped and over-capacity hospital facilities, says an assembly health committee report.
A cross-party group of AMs found too few resources placing "extreme" pressure on neonatal services.
Their report calls for the assembly government to address high occupancy rates and severe understaffing.
An assembly government spokesperson said: "We will consider its findings and recommendations."
Committee chair Darren Millar AM said: "All babies deserve the best possible start in life".
The inquiry by the assembly's health, wellbeing and local government committee found that occupancy rates in some units were double the recommended level at 140%.
The committee heard evidence of units being closed due to over-capacity, and one mother and her premature baby being separated because her baby had to be transferred to provide space for another.
According to the report, the all-Wales neonatal standards - a vision for services for special care babies and their families - are not being met, and more funding is needed for this to change.
Zoe from Cardiff had two babies born prematurely, Jacob at 29 weeks and Sonny at 26 weeks.
She said the thought of having to travel to England to have Sonny was worrying.
"Worringly the night before he was born the closest bed for him would have been in Manchester, so we were a bit concerned," she said.
"But fortunately a bed became available for him the next day."
Commenting on the report Mr Millar said the growing birth rate and increased survival rates for premature babies were placing continued pressure on neonatal units.
"The birth of a child is a magical, miraculous event, but if a baby is born too early, it can be an extremely difficult, emotional and stressful time for a family," he said.
"At present 33,000 babies are born in Wales each year and it is estimated that approximately 3,800 are admitted to the 13 neonatal units in Wales."
"All babies deserve the best possible start in life, and the care that premature babies receive can have a profound effect on the rest of their lives."
He added that the committee hoped that its recommendations would lead to an improved service for the most vulnerable babies and their families.
'Serious impact'
Commenting on the report, Conservative health spokesman Andrew RT Davies AM said: "As a member of the committee that compiled this report, I heard some very disturbing evidence in the course of our inquiry.
"Neonatal units in Wales are understaffed, ill-equipped and over-capacity and clearly this can have a very serious impact on the care of infants in these units."
Mr Davies said it was particularly worrying that there were insufficient resources to meet the growing demands on neonatal services across Wales.
"This places extreme pressure on neonatal staff who work so hard to protect and improve the health and wellbeing of babies in their care," he said.
He urged the assembly government to take action address severe understaffing in units and the high occupancy rates, which are double the recommended level at 140% in some units.
"It is incumbent on the minister to ensure that the recommendations of this report are implemented so that vulnerable babies can have the best possible start to their lives," he said.