Majority of rape cases in NI do not end up in court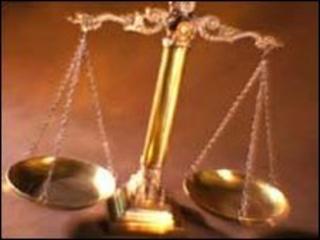 The Public Prosecution Service has been asked to investigate why the majority of rape cases in Northern Ireland end with a direction not to prosecute.
Criminal Justice Inspection NI (CJI) examined how cases of sexual violence are handled within the criminal justice system.
Its report recommends that both the PPS and police make changes to support victims during the legal process.
CJI said it had made 12 recommendations for improvements.
The Chief Inspector of Criminal Justice, Dr Michael Maguire said crimes of sexual violence and abuse are often "complex" and can be "notoriously" difficult to investigate and prosecute.
"As a result, a large number of those cases which are reported to the police drop out as they progress through the criminal justice system.
"We have recommended the PPS investigate the reasons why the majority of rape cases are directed for 'no prosecution' and if issues are identified, take action to address these where appropriate, in conjunction with the PSNI.
"This inspection found that while the conviction rate for crimes of sexual violence in Northern Ireland is not good in relation to the numbers that are reported, it is no worse than elsewhere in the United Kingdom," he said.
Dr Maguire said more could be done collectively by the organisations that make up the criminal justice system in Northern Ireland to support victims of sexual offences.
'Improve communication'
"This inspection into how sexual violence and abuse cases are handled by the criminal justice system identified some excellent examples of good practice.
"We found many examples of dedicated staff working with victims in a professional and sensitive matter throughout the system."
He also urged the PSNI and the PPS to improve communication with victims and their representatives.
"Victims of sexual violence and abuse, and their representatives, identified a lack of information and updates in relation to the progress of their case, as a matter of concern.
"Inspectors recognise the need for victims to be better supported as their case moves from one justice organisation to another," said the chief inspector.
"We have therefore recommended the PSNI and the PPS develop a protocol for the investigation and prosecution of allegations of rape and serious sexual offences, which outlines their responsibilities in relation to updating victims."
Dr Maguire said improving the speed at which a case progressed through the justice system, would help reduce the level of trauma and anxiety involved for both victims and the accused.
Justice Minister David Ford said Northern Ireland must have a criminal justice system which puts victims and witnesses at the core.
'Complex and sensitive issues'
"As part of this, it is of paramount importance that victims of sexual violence and abuse are provided with the necessary support and that they have confidence in the service they are receiving," he said
Mr Ford said while the report highlights many examples of good practice and partnership between criminal justice agencies and the voluntary sector, it also highlights the complex and sensitive issues that sexual violence and abuse victims may face.
"As a result cases often do not get reported or proceed through the system. This is an area of real concern which I have discussed with Dr Maguire.
"In the autumn I will be announcing a range of proposals for tackling these important issues.
They include the development of special support and advocacy services for victims of rape or sexual assault; publication of a step by step victim information handbook; and legislation to provide enhanced special measures for victims giving evidence at court."
PSNI Assistant Chief Constable Will Kerr said the police constantly strived to improve its service to victims of sexual violence and abuse.
'Treatment of victims'
"The inspection report identified four key areas for improvement and we are committed to working with our partner agencies to improve the quality and consistency of the overall service.
"The treatment of victims in particular is key to the prospect of securing a conviction and the gathering of enhanced forensic evidence can add considerable value to an investigation.
"A Sexual Assault Referral centre will offer a single, coordinated, supportive response to the victim's needs and provide immediate emotional and medical support and an enhanced forensic response.
"Meeting the immediate needs of victims of serious sexual assault and reducing the likelihood of any associated future consequences will contribute greatly to having the issues raised in this report addressed."