Yacht rescued after sinking call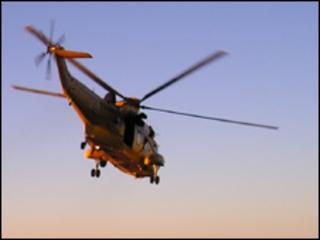 A yacht with 16 people on board has been rescued after it began sinking in heavy seas 12 miles off the coast of Fraserburgh.
The Swedish training vessel Biscaya Av Vindalso issued a mayday call in the early hours after it began taking in water.
Fraserburgh lifeboat and an RAF helicopter were scrambled. A rig support vessel also assisted.
The yacht was escorted into Fraserburgh harbour at about 0500 BST.
The Maersk Advancer, which was nearby, also went to the yacht's aid after responding to the mayday call.
The coastguard spokesman said that with waves between four and six meters high, the RAF rescue helicopter lowered pumps to the yacht which kept the level of the incoming water down.
Coastguard watch manager George Downie said: "Because the vessel had the right safety equipment on board and the crew knew how to use it they were able to quickly call for help when they needed it.
"This, alongside the skill of the RNLI and RAF crews, saved the vessel from sinking.
"I'd also like to take this opportunity to thank the Maersk Advancer for its assistance tonight."
Earlier rescue
In an earlier incident a Norwegian sailor was rescued after becoming adrift 33 miles off the north east coast.
The man, who was sailing on his yacht Margarita, reported that his vessel had lost power and was taking on water and that he was suffering from exhaustion.
Aberdeen Coastguard received his call at about 1545 BST. They said the sea had a five to six metre swell and there were 35 knot winds.
Norwegian supply vessel North Mariner responded to the request for assistance and towed the yacht into Aberdeen.
Matthew Mace, from Aberdeen Coastguard, said: "This has been a real international rescue with seismic survey vessel Polaricus Nadia relaying our messages in Norwegian and then the Norwegian Survey Vessel North Mariner undertaking the tow.
"I'd like to thank both vessels for their assistance in bringing this yacht to safe harbour."