'Mum sat on park bench drinking'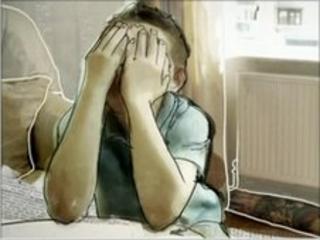 It is the stuff of Victorian melodrama - children terrified of their drunken parents, their lives destroyed.
And according to a survey for the BBC's Newsround programme it is still happening.
The study of more than 1,200 children aged 10 to 14 found that many of them are seriously worried about their parents' drinking.
One 10-year-old, Ben, and his mother told the BBC how her alcohol abuse had a dramatic impact on their lives.
Ben said: "When my mum first started drinking she wasn't that bad because she drank a couple on a night. But when she started getting worse it used to be during the day."
Taxi journeys
His mother explained that she was drinking up to four bottles of whisky a day following the death of her father.
"I was doing it because I thought it was helping me cope, but obviously it was making everything worse," she said.
"I was under the influence that bad that I never realised how much drink I'd got. My every thought was taxi cabs to fetch more."
Her son added: "We did a lot of taxi journeys to go to the newsagents, drink shops basically. It would be every day. I would just stand outside waiting."
The mother was aware of the damaging effect such behaviour was having on her son - but could not stop because of the drink.
She said: "I could see that it was hurting him that I was fetching alcohol. But because of being under the influence of alcohol I didn't really care, unfortunately. You don't care. You don't care about anything at all as long as you've got that drink."
And that made life a nightmare for Ben.
"Sometimes when I used to walk to school my mum would be sitting on the park bench drinking. I'd look at her and I'd look away like I don't know her because it used to embarrass me," he said.
"The house was all fell apart, really. It was dirty, messy. My mum was on the sofa and there'd be cans all over the place. That's basically all you'd see - cans, clothes, bottles. That's it. All over the place."
'Angry and upset'
He added: "I kept it a big secret. I didn't tell my friends about my mum's drinking because I felt that they might take the mick out of me and call me names.
"I love my mum and I wanted her to get back the way she was before. It was really making me angry and upset."
Nearly half of the children surveyed said they were not bothered by adults drinking - but 30% said it made them feel scared.
The survey was carried out for Newsround by Childwise, a charity that provides support for the children of problem drinkers.
The charity's founder, Emma Spiegler, said: "I would say that in moderation and drinking responsibly, adults can drink and have a good time and for kids to see that there's no problem.
"But when kids are feeling frightened and scared and it becomes a problem for the adult then it is a concern."