Torres Strait islanders win marine rights battle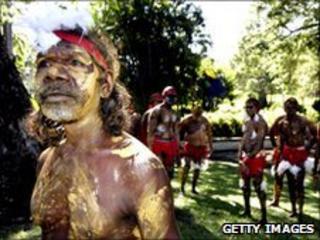 Indigenous islanders in the Torres Strait are celebrating Australia's largest ever marine rights victory.
Communities there have secured ownership of more than 40,000 sq km of sea between the tip of northern Queensland and Papua New Guinea.
Ships, fishermen and other businesses will still be able to operate in the waters, but indigenous groups must be consulted about future development.
Australia's Federal Court made the ruling after a nine-year legal battle.
There has been jubilation across the Torres Strait as indigenous islanders celebrate a historic decision.
Community elders say it will help to maintain their unique maritime culture and provide economic opportunity.
At the heart of their claim was a call for their spiritual ties to the sea to be formally recognised.
The court's ruling does not grant islanders exclusive rights over the vast area of ocean, nor were they claimed.
More than 200 islands are peppered throughout the Torres Strait.
Its people speak two distinct languages. Their traditional beliefs are based on the sea, the land and the sky, which have been portrayed over thousands of years in a rich array of stories, songs and dances.