Former Bosnia leader Ejup Ganic extradition case begins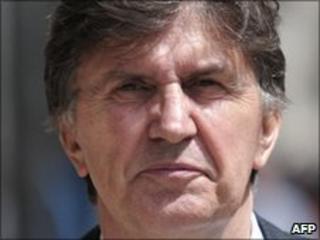 A former Bosnian president accused of war crimes has said it would be impossible for him to receive a fair trial in Serbia.
Ejup Ganic faces extradition from the UK to face prosecution for atrocities he denies in Sarajevo in 1992.
The case to force him to travel to Serbia opened at City of Westminster Magistrates' Court in central London.
Legal representatives said Dr Ganic ordered attacks on medical targets and the execution of surrendered soldiers.
'Violent clashes'
Outside court, Dr Ganic, 64, said Serbia's extradition case was politically motivated and distorted the facts.
He said: "They hope to rewrite history because this is a country that committed genocide. It is 18 years after these events and there were hundreds and hundreds of incidents of this kind.
"They are trying to confuse the British judicial system, to say 'we are an organised country that can give a fair trial'."
James Lewis QC, for the Serbian authorities, told the court there was a series of violent clashes in Sarajevo at the start of the Bosnian war in May 1992.
The barrister said Dr Ganic, who was in Sarajevo, ordered all of these attacks, which were illegal under the Geneva Convention.
Soldiers killed
Mr Lewis said: "It is alleged Dr Ganic acted with others to carry out a course of conduct which would necessarily amount to the commission of war crimes."
Last year, a Belgrade court indicted Dr Ganic and 18 other people over their alleged roles in the killings of 42 soldiers.
Dr Ganic was arrested at Heathrow Airport on 1 March after attending a degree ceremony at the University of Buckingham. He is now on bail.
The university is twinned with Sarajevo School of Science and Technology, where Dr Ganic is president.
The extradition case is expected to continue until Wednesday next week.