Indian opposition parties call strike over fuel prices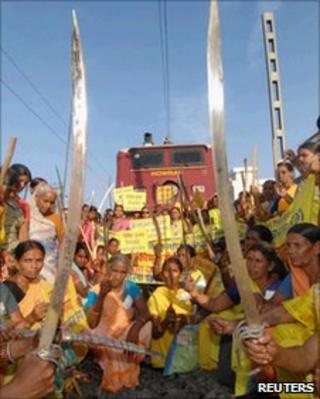 Normal life has been disrupted in many parts of India because of a strike called by opposition parties against fuel price rises.
The effect of the 12-hour stoppage was felt most in states where opposition parties are in power.
Transport was hit and businesses and schools were shut in the financial capital Mumbai, Calcutta and Bangalore.
There were minor scuffles between demonstrators and police in several places across the country.
The government expects the increase in fuel prices to add nearly 1% to an inflation rate which is already over 10%.
Millions of Indians will be affected, the opposition says.
The government announced fuel prices rises last month in an attempt to cut the budget deficit.
'Prices sky-rocketed'
The main opposition Bharatiya Janata Party (BJP) and its allies and India's Communist parties issued separate strike calls against the rise in fuel prices.
Demonstrators and police clashed in Lucknow, capital of the northern Uttar Pradesh state.
The states of West Bengal and Kerala - which have left-wing governments - and Bihar were worst affected with roads in many areas deserted.
Women protesters, holding swords and sticks, blocked a railway track in Patna, capital of Bihar.
In the Indian capital, Delhi, many markets and schools were closed and thousands of policemen kept vigil on the streets.
A large number of flights were cancelled, train services affected and schools and businesses shut in these and other parts of India.
More than half a million lorries went off the roads after the main truckers' union said it was supporting the strike.
The major info-tech hub of Bangalore in southern Karnataka state remained shut because of the strike, correspondents say.
In Mumbai (Bombay), taxis and auto rickshaws stayed off the roads, although the city's suburban train network was running.
Many commuters preferred to stay at home fearing they would be stranded on their way to work.
One domestic helper in the city, Chandra Bai, told Reuters news agency the strike was not helping the people.
"On one hand, all prices have sky-rocketed, on the other hand, they call a strike and trouble us even more. Where is the relief for us?"
But other Indians told the BBC they supported the strike.
"The increase in fares will become unaffordable for people like myself, who use transport every day. This will affect our monthly budget," said Rupali in Mumbai.
'Insensitive'
Senior BJP leader LK Advani asked Indians to make the strike a success to highlight the "insensitivity of the government".
The fuel price rise followed the government's decision last month to scrap its subsidy of petrol prices in an effort to cut the budget deficit, which is forecast to hit 5.5% of GDP by 2010-11.
Allowing the price of petrol to be decided by the market has added about 3.5 rupees (£0.05; $0.08) to the price of a litre of petrol, a rise of 6.7%.
Diesel prices will be increased by 5% or 2 rupees a litre, although not immediately.
And kerosene, which is used by tens of millions of poor Indians, went up by 33% (3 rupees per litre) in the first such increase since 2002.
The government has ruled out reversing its decision.