UK paper review - Scepticism over budget cut plans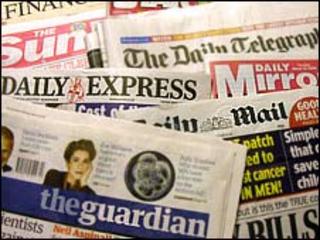 The demand for government departments to consider how to cut spending by 40% comes under scrutiny for a second day.
It is "the crassest form of expectation management", suggests the Guardian.
The Daily Mirror is wary of ministers' denials that any department would face a full 40% cut, saying they should be taken with a large dose of salt.
The Times predicts that the decision to scrap plans to rebuild hundreds of schools could infuriate scores of Tory MPs.
The Daily Mail is appalled by BBC Panorama's report that only 18 teachers have been struck off for incompetence in 40 years.
It criticises what it calls a cosy conspiracy allowing poor teachers to be given good references, enabling them to avoid action and move to new schools.
The implications of this, concludes the Independent, are depressing.
Hundreds of thousands of children are receiving a sub-standard education because poor teachers are not being removed from the system, it says.
'No hounding'
The Mayor of London, Boris Johnson, is angry that a south London couple face referral to social services for letting their children cycle to school alone.
Writing in the Telegraph, Mr Johnson says the parents should be applauded, not hounded, and that the state should not dictate how children get to school.
The Guardian leads on analysis of last month's budget as the "worst for women" since the welfare state's creation.
Women will shoulder nearly 75% of the burden of cuts and tax rises, it found.
Marital breakdown
Meanwhile, the Daily Mail highlights research from America suggesting that if a friend's marriage ends, your own is 75% more likely to fail.
Researchers studied the lives of some 12,000 people in a New England town.
They deduced that break-ups within friendship groups force couples to question their own relationships.
The paper's cartoonist, Pugh, finds humour in all this - depicting a woman telling her husband: "Trust me to marry somebody who has no mates."