China bus fire kills 24 steel factory workers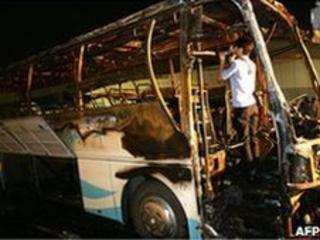 A shuttle bus carrying steel factory workers in eastern China burst into flame, killing 24 of those on board.
The accident happened in Wuxi, in Jiangsu province near Shanghai, on a bus from the Wuxi Xuefeng Steel Company.
Officials said there was no explanation for the fire yet, but investigations were continuing.
China's safety record on the roads and at work is bad, with deadly accidents a regular occurrence.
The Chinese news agency Xinhua said the accident happened on Sunday night, with those on board being night shift workers.
"The reason for the fire is not yet known but the public security bureau is investigating," a city official surnamed Wang told AFP.
Last year in Chengdu province, 27 people died when a worker ignited a can of petrol on a bus which had sealed windows and doors.
Residents took to carrying small hammers with them on public transport in order to break a way out should such an event happen again.
In May this year, 10 people were killed in a fire at a railway workers' dormitory in Inner Mongolia.