Future road pricing 'inevitable' - RAC Foundation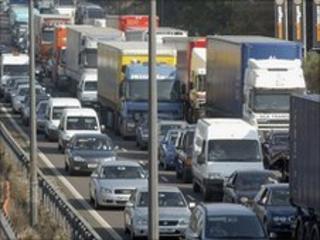 Charging motorists for each mile they travel is "inevitable" if future traffic gridlock is to be avoided, the RAC Foundation charity has suggested.
A "pay-as-you-go" system could be the answer to congestion, according to its director Prof Stephen Glaister.
Population rises and economic recovery, causing traffic to grow 33% by 2025, combined with road spending cuts will necessitate wholesale reform, he says.
The government says it has no plans to charge drivers on existing roads.
However, a spokesman said it may consider charging on new routes, using the M6 toll road in the Midlands as an example.
The RAC Foundation launched its report alongside the results of an Ipsos MORI survey suggesting that 58% of drivers agreed that a per-mile, pay-as-you-go system would make them think about how much they drive.
'Short-changed'
According to Prof Glaister, to gain public support a system of charging motorists per mile would have to be backed by:
A cut in fuel duty and abolition of vehicle tax
Roads run at "arm's length" from the government, perhaps by a privatised utility
A guaranteed sum of revenue put aside to pay for the work and a regulator to ensure it was done efficiently
More reliable journey times and compensation for delays
Prof Glaister said: "Some form of 'pay-as-you-go' system is inevitable because of the benefits it will deliver for motorists and the country, and the lack of a credible alternative.
"Our poll shows that most people are instinctively opposed to road charging when they think it is an extra tax. But when the details are explained and they realise the benefits then the opposition falls away dramatically.
"Motorists are resentful of the relentless rise in the cost of fuel and feel short-changed by the amount spent on the road network. But these proposals address such issues."
Local road pricing schemes already exist in the UK. Congestion charging was introduced in Durham in 2002 and in London the following year, while other areas have considered similar schemes.
However, the previous Labour government's drive to encourage such schemes was effectively abandoned after people in Greater Manchester voted four to one against its introduction.
A Department for Transport spokesman said: "We have no plans to introduce a charging programme for existing roads, which are publicly owned and have already been paid for by the taxpayer.
"To tackle congestion in financially constrained times we will ensure we are making the most of our existing roads.
"We might, however, consider building new toll roads. The M6 toll road is a good example of how you can create new capacity with private capital."