Clinton promises 'steadfast' US support for Georgia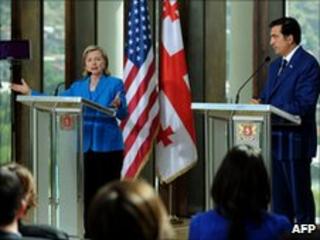 US Secretary of State Hillary Clinton has pledged continuing American support for Georgia after talks in Tbilisi with President Mikhail Saakashvili.
Mrs Clinton said the US was "steadfast in its commitment to Georgia's sovereignty and territorial integrity".
She said the US did "not recognise spheres of influence", referring to Russian claims for special influence over former Soviet states like Georgia.
Russia and Georgia engaged in military conflict in 2008.
Tensions between the neighbours escalated into full-blown conflict in August of that year after Georgia launched a military assault on the Moscow-backed South Ossetia region, which Russia moved to repel.
Ceasefire commitments
In the aftermath of the war, Russia recognised South Ossetia and Abkhazia, both of which are regarded as breakaway regions by Tbilisi, as independent states - though only a handful of countries followed suit.
Russia has since established permanent military bases and deployed hundreds of troops and border guards in the regions.
Speaking at a news conference in Tbilisi, flanked by Mr Saakashvili, Mrs Clinton said that the message of firm US backing for Georgia came from both herself and US President Barack Obama.
She also said that both she and the president had impressed their point of view on Russian President Dmitry Medvedev when he visited Washington last month.
Mrs Clinton also called on Russia to adhere to commitments it made in the ceasefire agreement which followed the 2008 conflict, including withdrawing its troops to the positions they held before the attack.
And she urged Russia to allow humanitarian access to the areas of Georgia its troops still occupy.
Mr Saakashvili said he was encouraged that Washington had continued to support Georgia in the face of its "reset" relations with Russia.
Mrs Clinton's trip to Georgia comes 12 months after US Vice-President Joe Biden visited.
Long-running dispute
Georgia was Mrs Clinton's final stop on a five-day regional trip which also took in Poland, Ukraine, Azerbaijan and Armenia.
In Azerbaijan and Armenia, the US secretary of state held talks in a bid to end a long-running dispute over the enclave of Nagorno-Karabakh.
Visiting both countries on the same day, Hillary Clinton told them that the US was ready to help achieve peace.
The two nations have been in dispute about the territory since a 1994 ceasefire ended a three-year war that claimed up to 30,000 lives.
Mrs Clinton also urged Turkey to normalise ties with Armenia.