Family pay tribute to Bridgend gate death girl, five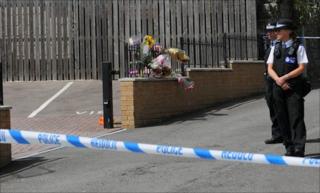 The family of a five-year-old girl who died after being trapped by a sliding automatic gate have paid tribute to her.
Karolina Maria Golabek, a pupil at Penybont Primary School, died after the incident at a block of flats in Bridgend on Saturday afternoon.
Police and health and safety experts are investigating her death.
"She was a very happy, fun-loving, daughter," said her parents and brother in a statement.
"Our little angel, Karolina Maria Golabek, tragically left us on Saturday 3 July 2010," the statement went on.
"She loved animals, drawing pictures and enjoyed picking flowers for us; her loving parents and brother.
"She will be deeply missed."
South Wales Police said emergency services attended the scene at Brook Court, on Saturday afternoon.
Karolina, who police say was Polish, was taken to the Princess of Wales Hospital, where she later died.
Floral tributes, teddies and cards have been left on the railings outside the property.
Police say a full investigation is being carried out and a file is being prepared for the coroner.
The waist-high black metal gate is at the entrance to a small car park at a three-storey building about five minutes walk from the town centre.
Residents at the modern block of privately-owned flats, which is surrounded by streets of terraced houses, said the accident happened about 1700 BST on Saturday.
Eleanor Jones, who lives opposite the scene, said a large number of police officers were in the street when she returned home about 1830 BST.
She said: "I can't believe it because the little girl was there when I went out.
"By the time I came home it was just police in the street. I had seen her but I didn't know her."
'Shocked and saddened'
She added: "It's devastating. You can't believe that a gate would do that."
The gate was open and de-activated following the incident.
Deborah Rees, editor of Bridgend's newspaper The Glamorgan Gazette, drove past the girl playing an hour before the tragedy.
She said: "She was sitting in the garden opposite the car park, playing quite happily with a couple of cats.
"I had seen her before. She was a happy little thing, always smiling."
The Health and Safety Executive says it is conducting a joint investigation with South Wales Police into the death. One of their inspectors has already been to the scene to investigate.
Developers Leadbitter Homes, who built Brook Court in 2006, said they would provide assistance to support the investigation.
Bob Rendell, group chief executive, said: "The Leadbitter Group is shocked and saddened by the sudden death of this young girl in Bridgend - and we offer our deepest sympathies to her parents, family and friends."
Although the flats within Brook Court are owner occupied, Hafod Housing Association has had responsibility for its communal areas, including the gates and car park, since August 2009.
In a statement managing director Alan Morgan said: "We were extremely saddened to learn about the tragic incident that happened at Brook Court on Saturday afternoon.
"We are not aware of any problems with the gates. They are serviced regularly and at our last residents' meeting in April, no concerns were raised about their safety.
"We are obviously keen to establish how this incident could have happened so that we can take the necessary steps to ensure nothing like this can happen again. Our thoughts are with the girl's family and friends at this devastating time."
The incident follows a death in Manchester last Monday of a six-year-old crushed by an electronic gate.
Semelia Campbell was playing with a friend near her home in Moss Side when the motorised gate closed on her.
The schoolgirl was eventually freed when police broke off an electronic box.
She was rushed to Manchester Royal Infirmary but died from her injuries a short time later.