Anti-social behaviour 'forces' Brixham hotel owners out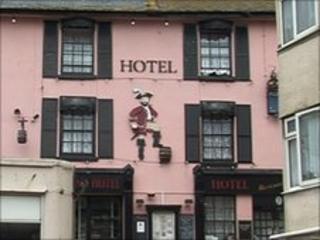 Anti-social behaviour in a Devon seaside resort has led to a couple putting their business on the market.
Jean and John Ruffell, who own the Smugglers Haunt Hotel in Brixham, said the behaviour of local youths was "intolerable".
They say guests have been intimidated and attacked, and there have been numerous incidents of vandalism.
Devon and Cornwall Police have written to the Ruffells, saying the matter is receiving "appropriate attention".
A nearby resident, who was too frightened to be identified, has video footage of some of the incidents.
Mr and Mrs Ruffell, who bought their hotel six years ago, say unless action is taken the economy of the town could be threatened.
One guest, who was too scared to take her dog outside at night, cut short her stay, while another had money demanded from a group to allow him access to the car park.
"Friday nights are dreadful - so bad I don't really want people staying here now," Mrs Ruffell said.
Mr Ruffell said the situation was intolerable. "I've had guests beaten up," he said. "I'm just not prepared to live that way of life."
Torbay Mayor Nick Bye has invited the Ruffells to a community partnership meeting with police, council officials and local residents.