Top sumo wrestler fired over illegal gambling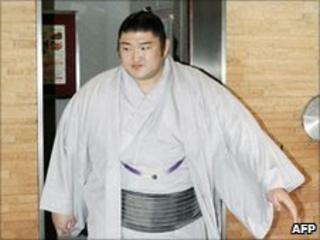 Sumo authorities in Japan have dismissed a top wrestler in a clampdown on illegal gambling.
The wrestler, Kotomitsuki, is an ozeki - sumo's second highest rank. He is the most senior wrestler ever to be fired from the sport.
A coach, Otake, has also been dismissed over the scandal, which concerns illegal betting on baseball games.
The gambling is said to be a funding source for Japan's "yakuza" gangsters.
The dismissals were announced after a special meeting of the Japan Sumo Association (JSA).
The meeting followed a JSA survey last month that linked at least 65 of its 700 members with gambling on baseball, cards, mahjong and other games.
JSA Chairman Musashigawa has also been suspended until the end of the next tournament in Nagoya on 25 July.
He will be replaced by sumo outsider Hiroyoshi Murayama, a former senior prosecutor, in what observers say is a sign that the JSA is committed to repairing its tarnished image.
Extortion
Kotomitsuki, who has admitted the baseball gambling, said he realised that his dismissal was "unavoidable".
''I have received my punishment from the JSA today and I have reflected once again on all the trouble I have caused,'' Kyodo news agency quoted him as saying.
A former wrestler has been arrested on suspicion of extorting money from Kotomitsuki to keep quiet about his gambling.
Otake, the coach, has acknowledged running up debts of more than $50,000 (£33,000) on illegal gambling.
The scandal is the latest in a series to hit the sumo world, which is already badly affected by recruitment problems.
Last year, a leading sumo coach was jailed for his role in the fatal beating of a young wrestler in an attack that exposed the issue of hazing within the sport.
And earlier this year top wrestler Asashoryu announced his retirement following allegations he attacked a man outside a Tokyo nightclub.
Sumo wrestlers and their trainers - who are called stablemasters - traditionally use only one name.