World's biggest porridge bowl record set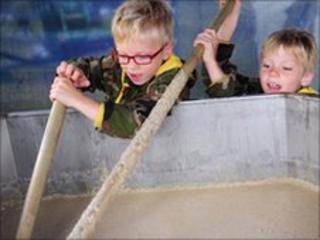 A new world record for the biggest bowl of porridge has been set at the annual Cupar Highland Games in Fife.
The huge breakfast of 690 litres of porridge which was cooked up could feed 2,000 people and was more than double the existing record.
Local firefighters added water from their fire engine to 80kg of oats, before the mixture was heated and cooked for several hours.
The record was confirmed by an official from Guinness World Records.
The attempt used a specially-made bowl measuring 1.5m in height and width, which was transported by a forklift truck for measuring.
According to the organisers of the attempt, the previous record was 300 litres.
Craig Manson, chairman of Cupar Round Table, which runs the Highland Games, said it had been a very exciting and ambitious challenge.
"We have achieved our goal of breaking the record and put Cupar back on the map," he added.
Official adjudicator Craig Glenday, editor-in-chief of Guinness World Records Book, added it was "unlikely" the new record would be broken soon.
The oats were provided by Scott's Porage Oats from their Cupar factory.