US cash boost for Scenic Railway at Margate's Dreamland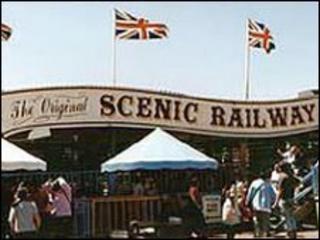 The restoration of the Scenic Railway at the Dreamland site in Margate, Kent, has received a cash boost from amusement ride enthusiasts.
The American Coaster Enthusiasts (ACE) has donated $5,000 (£3,289) for the Grade-II listed rollercoaster which was damaged in an arson attack in 2008.
The ride was built in 1920, and is the oldest surviving rollercoaster in the UK and the fourth oldest in the world.
President of ACE, Mark Cole, said he was looking forward to riding on it.
Chairman of the Dreamland Trust, Nick Laister, said the "very generous donation" demonstrated the level of international interest in the future of the Scenic Railway, "which is a remarkable and fragile survivor".
As well as restoring the Scenic Railway, the Dreamland Trust plans to open an amusement park based on vintage rides, many of which have been acquired over the last several years and are currently in storage.
Funding of £10m has been secured to start work on the restoration.