Cuts threaten new roads, says transport secretary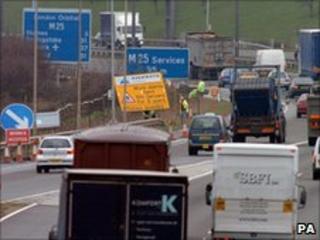 There is likely to be a big reduction in the number of new roads being built in the UK over the next few years, Transport Secretary Philip Hammond has indicated.
Mr Hammond's department is among those expected to bear the brunt of planned spending cuts of between 25% and 40%.
He told BBC1's Andrew Marr show he wanted to protect big infrastructure projects that helped economic recovery.
But any money for roads would have to go on repairing the existing network.
He said: "There's going to be much, much less money available for new roads.
"We will have to focus first and foremost on maintaining the roads we have got. What we mustn't do is allow our existing infrastructure to fall into decay. We have a huge backlog of maintenance."
'War on motorist over'
If the transport budget was cut by 33% in real terms, as some have predicted, Mr Hammond would have to find £5bn in savings from his £16bn annual budget.
He told Andrew Marr: "We are going to have to prioritise aggressively - do the things which deliver the most value, which deliver the most support to economic growth, because that's one of the key challenges of the next few years - making sure that this economy does start growing again in a sustainable way and transport infrastructure has a major part to play.
"But definitely we will not have as much money to spend on rail enhancements, on new road projects, as we did in the past. That's clear."
The Conservative MP began his new job by declaring "the war on the motorist is over".
Asked by Andrew Marr to explain what this meant in practice, he said there would be more work to deal with bottlenecks and potholes and no blanket reduction in the speed limit in built-up areas to 20mph.
On other issues, he said the over 60s' free bus pass, which costs about £1bn a year, will remain but urged those who could afford to pay the fare to do so.
"I'd say to those people who feel that they don't want to be using a free bus pass that they don't have to use them.
"The bus passes only cost the taxpayer if they are used and so people who are well-off, who feel that they want to make contribution by not using their bus pass have it within their power to do so."
Spending review
Road projects already shelved by the coalition government include the £1.1bn widening of the A14 between Cambridge and Huntingdon and a £23m scheme to improve road junctions and buses on the A2 in Kent, both of which were due to start this year.
The previous government had earmarked £6bn for improvements to major trunk roads and motorways in England up to 2015, in addition to £3bn for local road projects up to 2018/19.
Mr Hammond did not say which of these projects were in line to be axed, although much of the money has already been spent, largely on work to allow vehicles to run on the hard shoulders of motorways, seen as a relatively cheap way of increasing capacity and reducing congestion.
Projects yet to begin include further hard shoulder-running on the M1, M25, M3 and M4 and improvements to Junction 30 of the M25 in Essex.
On the railways, the coalition government has backed new high speed routes and Crossrail - although not any cost.
But Mr Hammond said he had halted work on building 1,400 new train carriages, pending the outcome of October's public spending review.