Memorial service for Cumbria flood death Pc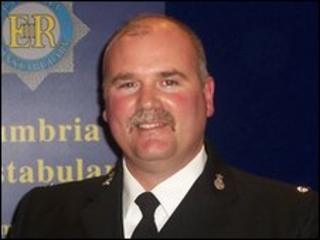 A memorial service is to be held for a police officer who was swept to death by floodwater in Workington, Cumbria.
Pc Bill Barker, 44, was directing traffic away from Northside Bridge, when it collapsed on 20 November.
The father-of-four from Egremont fell into the River Derwent, which had been swollen by record rainfall.
A service of thanks to his commitment to the community will be held at St Michael's Church in Workington at 1400 BST on 10 July.
The service will be open to the public. Mr Barker's widdow Hazel, and their children, Simon, 17, Melissa, 16, Daniel, 14, and Emma, eight - have been invited.
Mrs Barker has said that the family was still finding it difficult to cope after the tragedy.
"I keep going over and over it, trying to make sense of it," she said.
"The level of devastation caused by the elements is what you expect to see abroad. You don't expect to see that here."
Earlier in the night her husband of 22 years had telephoned from the flooded police station, where his colleagues were laughing and singing the song Singing in the Rain.
Mrs Barker added that she knew something bad had happened when she heard a knock at the front door and saw that the visitor was a family liaison officer.
"The following few hours were a nightmare," she said.
"I was convinced he wouldn't leave us. I kept saying, 'Bill wouldn't do this to us'. Bill was indestructible. I couldn't believe it."
Pc Barker was described by the then prime minister, Gordon Brown, as a "heroic, very brave man who died trying to save the lives of others".
His funeral service, in his home town, was attended by hundreds.