Police in direct appeal to Gateshead shooting suspect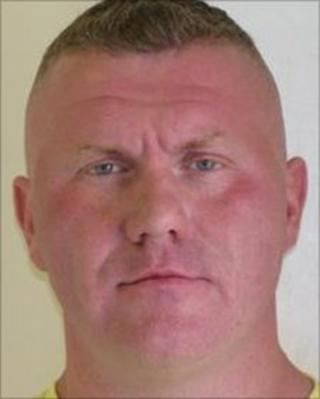 Police have issued an appeal to a man believed to have shot his ex-girlfriend, killed her new partner and shot a police officer on Tyneside.
At a news conference Det Ch Supt Neil Adamson appealed to Raoul Thomas Moat, saying: "This must stop now."
Police have named the man shot dead as karate instructor Chris Brown, 29. Samantha Stobbart, 22, was injured.
Pc David Rathband, 42, was shot in Newcastle on Sunday morning and is in a critical condition.
All armed officers in the region have been deployed, and officers have been called in from other forces to aid the search.
Before the attacks began Moat's Facebook status was changed to read: "Just got out of jail, I've lost everything, my business, my property and to top it all off my lass has gone off with someone else.
"Watch and see what happens."
Police believe the first shooting, in which Mr Brown was killed and Miss Stobbart critically injured, happened in Scafell, Birtley, Gateshead, at about 0240 BST on Saturday.
A man believed to be Moat then shot uniformed motor patrol officer Pc Rathband while he was on duty at East Denton, to the west of Newcastle, at about 0045 BST on Sunday.
Police said Pc Rathband was carrying out a "static patrol" on a roundabout when he was attacked. He was later taken to Newcastle General Hospital.
Mr Adamson revealed that Moat had contacted the police at about the same time Pc Rathband was shot, although he would not give a specific time.
He said Moat had been under the impression that Miss Stobbart had been having an affair with a Northumbria police officer.
But he said Mr Brown, who had moved to the area from Slough, did not have anything to do with the police.
"Chris Brown, who was shot and killed yesterday, was not and has never been a Northumbria police officer or in any way connected with Northumbria police.
"Sam is injured but will live. Pc Rathband, shot in the early hours today, was seriously injured and is in a critical condition in hospital."
Appealing to Moat, he said: "You have told us that police are not taking you seriously.
"You have our full attention. Innocent people have been hurt, this must stop now."
It is not known whether Moat is on foot or travelling in a vehicle but police said he was armed and dangerous.
Temporary Chief Constable Sue Sim said the force had been left "shocked and upset" by the shootings but they were "absolutely committed" to finding Moat.
She said that despite being seriously injured, Pc Rathband had managed to provide colleagues with valuable information, "demonstrating his absolute professionalism in the most extreme circumstances".
"This was an unprovoked attack on a Northumbria police officer as he carried out his duty," she added.
All the victims were shot by Moat, a father-of-three, using a "shotgun-type weapon", said Mr Adamson.
In a second appeal to Moat, he said: "You have expressed concern for the well-being of your children, for their sake this needs to stop now.
"These are not the memories that your children should have of their father."
Moat was released from an 18-week prison sentence on charges of assault on a family member last Thursday.
Miss Stobbart's grandmother said Moat had previously threatened them with a firearm.
Agnes Hornsby, 69, said: "He threatened us with a gun - all because she'd put on her Facebook that she was going out with a friend.
"He was there for about two hours and she was on the phone to him trying to calm him down."