Orangemen hold Drumcree parade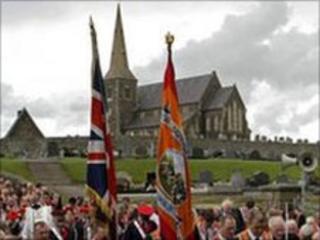 The annual Orange Order parade at Drumcree in Portadown has passed without incident.
Orangemen have been banned since 1998 from going down the mainly nationalist Garvaghy Road in Portadown after their annual march from Drumcree church.
Hundreds of Orangemen took part in the march and Sunday service at the church.
They handed a protest letter to police over the Parades Commission's refusal to allow them to return along what they say is their traditional route.
Before 1998, attempts to ban the parade from going down the Garvaghy Road resulted in loyalist rioting both in Portadown and across Northern Ireland.
However, when the 1997 march was forced through the Garvaghy Road it sparked republican rioting.