Salford Quays music venue opponents stage meeting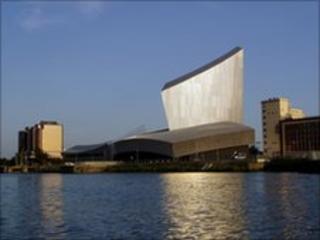 Residents of Salford Quays have held a public meeting in protest at plans to build a £5m music venue nearby.
Manchester club owner Sankeys has submitted a planning application to create a concert hall for 16,000 people at The Quays, Trafford Park.
Residents opposing it have formed the Sleepless in Salford group and they say the plans will bring about a "superclub".
Sankeys said the economy will benefit and denied they had nightclub plans.
The Sleepless in Salford group, who held a meeting at the Lowry theatre, said their "tranquillity" would be lost.
A spokeswoman said: "Most people moved here for the quality of life and the unique tranquillity of this brilliant location.
"None of us would have made that decision if we knew we would have to tolerate an endless number of sleepless nights.
"Our concerns are about noise, anti-social behaviour and the disruption from 16,000 customers arriving and leaving, often in the middle of the night."
The group said that the proposed Power Station club off Trafford Wharf Road is five times the size of a proposed Sankeys' club that Manchester City Council turned down in 2008.
However, Sankeys said they want to create a musical hall to rival that of London's O2 arena.
'Big impact'
They said the hall could also host a wide range of music and arts events, ranging from classical music to family events.
"The local economy will benefit from tens of millions of new revenue, and create over 70 local jobs for the construction phase and more than 290 long-term staffing jobs at the venue," a spokeswoman added.
The MP for Salford and Eccles, Hazel Blears, said: "This development is in a totally unsuitable location, so close to residential areas, and will have a big impact on the quality of life of people living in Salford Quays."
Jim Forrester, Director of the Imperial War Museum North, said: "I would suggest that we all want to assess whether this is compatible with the Quays as a growing world-class destination and equally to avoid any prospect of a high-profile business flop in the area."