Strike ballot vote by BT workers set to be announced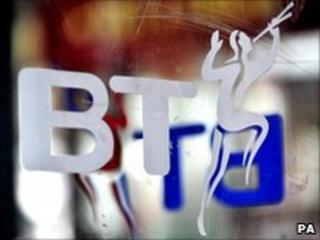 Telecoms provider BT could face strike action over a pay dispute when the result of a ballot of 50,000 CWU union members is known shortly.
The CWU says BT can afford a 5% pay rise after what it says is a two-year wage freeze and round of redundancies.
The firm has offered a 5.1% rise over 21 months and several one-off payments.
The ballot closes after the delivery of first post on Monday and a result is expected later in the day. The earliest date a strike could be held is 12 July.
Legal challenge
A strike could potentially leave thousands of BT customers without phone lines or internet access.
The CWU says BT can well afford the pay increase after making profits of more than £1bn.
The union has previously warned BT that any legal challenge to the ballot would not solve the dispute and would worsen the "already deteriorating" industrial relations.
BT had earlier said it was disappointed that the ballot was going ahead.
It also said last month that it had improved its offer several times, but that there had been no corresponding movement in its position by the union.
The firm has been asking managers to provide details of their broader skills in case strikes go ahead.
Rory Murphy, an employee relations expert and former senior union representative, said that the 35,000 job cuts BT had made over the past two years, was not helping relations.
"The CWU feel there's some imbalance between the profitability that's been made, the small offer - as they see it - that's been made to the employees, but also the cuts that they've been through.
"That has a huge impact on those that are left. We call it 'survivor syndrome'. The same work needs to be done and as technology changes, the stress gets even more."