Tin bath competitors thrill Isle of Man crowds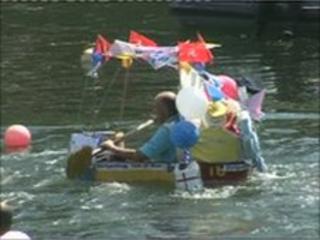 The 39th World Tin Bath Championships have taken place on the Isle of Man.
More than 70 competitors from across the globe rowed their customised and decorated tin baths round a lap of Castletown Harbour.
Hundreds of spectators gathered on the harbour side to witness the spectacle, which raised more than £6,000.
The Castletown Ale Drinkers organised the event to coincide with the Manx National Snake Races to raise money for local charities.
Competitors came from as far as South Africa, Lithuania and Romania.
Organiser, David Collister said: "People just like to have fun and the spectators come because they like to see people get wet and they like to see people sink.
"It's two hours of family fun and slapstick entertainment involving household tin baths that your granny will have used in front of the fire."