Iran 'has proof US kidnapped missing scientist'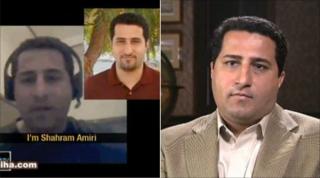 Iran has handed over new documents proving one of its nuclear scientists was abducted by the US, Tehran says.
The evidence, the contents of which have not been disclosed, has reportedly been given to the Swiss embassy, which represents US interests in Iran.
Shahram Amiri, who disappeared during a pilgrimage in Saudi Arabia a year ago, is believed to be in the United States.
Three videos purportedly of him emerged recently containing contradictory information as to his whereabouts.
The BBC's Tehran correspondent, Jon Leyne, who is in Cairo, says Iran's statement is the latest twist in Mr Amiri's case.
It is all part of a war of words, and a war of nerves, in which the rival intelligence agencies attempt to prove they are one step ahead of each other, our correspondent says.
There has been no official comment from the Swiss embassy, nor from the US, on the latest developments.
Video battle
The US has strenuously denied abducting Mr Amiri, but ABC News reported in March that the scientist had defected and was helping the CIA compile intelligence on Iran's controversial nuclear weapons programme.
The state department has refused to say whether he is in the US.
In the first of two videos that surfaced on 8 June, a man claiming to be Mr Amiri said he had been kidnapped by Saudi and US agents, tortured, forced to say he had defected and was living in Tucson, Arizona.
In the second video, circulated on the internet, "Mr Amiri" said he was in the US of his own free will.
In the third and final video, aired on Iranian TV at the end of June, the man denounced the second web broadcast as a "complete fabrication" and said he had escaped.
Iranian media have said Mr Amiri worked as a researcher at a university in Tehran, but some reports say he worked for the country's atomic energy organisation and had in-depth knowledge of its nuclear programme.