Birmingham 'terror cameras' row meeting held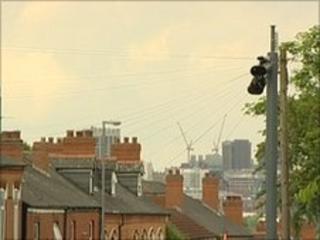 A public meeting has been taken place to discuss controversial surveillance cameras erected in parts of Birmingham with large Muslim populations.
A total of 218 cameras - some hidden - were put up in the Washwood Heath and Sparkbrook districts and paid for from a Home Office counter-terrorism fund.
Some residents say they are angry at what has been a "lack of consultation".
Senior police, council officers and politicians attended the meeting in Bordesley Green organisers said.
Other guests included Shami Chakrabarti, director of Liberty, and Salma Yaqoob, leader of the Respect party and councillor for Sparkbrook.
'Reduce crime'
Steve Jolly, one of the first to start campaigning against the cameras, said opposition has "grown and grown", gaining national support from campaign groups concerned about the infringement of privacy and civil liberties.
In April, the Safer Birmingham Project (SBP) said it had received £3m from the Home Office to improve community safety and reduce crime in the Washwood Heath and Sparkbrook wards.
However, it has since emerged the cash had come through the Terrorism and Allied Matters (TAM) fund, which is administered by the Association of Chief Police Officers' (Acpo).
But the SBP said although the counter-terrorism unit was responsible for identifying and securing government funding, the camera sites were chosen on the basis of general crime data - not just counter-terrorism intelligence.
The cameras were part of a scheme called Project Champion which has been since been halted and a full public consultation started.
Representatives from the SBP have said bags would be placed over some of the cameras but so far only signs saying "Cameras Not In Use" have been put up, Mr Jolly said.
Bags will not be placed on the 72 hidden cameras because the SBP does not want to reveal their location.
Roger Godsiff, Labour MP for Hall Green, has said he has put down an early day motion in the House of Commons expressing his concern about the way the scheme had been handled and is calling for proper public consultation before the cameras are activated.