Golfing neighbour rescues woman from fire in Essex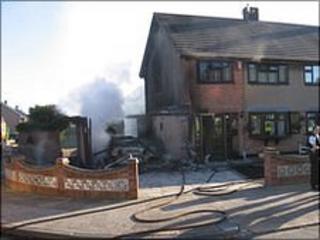 A quick-thinking neighbour rescued a 67-year-old woman who was trapped in her house in Essex by a fire in an adjoining garage.
The woman was woken by her fire alarm in her house in Malwood Road, Benfleet, and tried to escape through her front door but was beaten back by flames.
Graham Howett, 44, was heading off for a round of golf early on Sunday when he saw her through the lounge window.
He eventually managed to break the window and drag the woman to safety.
Essex Fire and Rescue said Mr Howett had been recommended for a Fire Service Commendation for his actions.
Dragged to safety
Sub Officer Russ Freeman said the woman had been unable to get through the front or back door because of flames and smoke.
"Mr Howett saw her at the lounge window, picked up a nearby flower pot and tried three times to break the glass.
"He eventually succeeded and with the woman's help managed to unlock the window and drag her through it to safety.
"She would have been unlikely to be able to get out on her own, so he most definitely saved her from serious injury at best."
The woman was checked over by ambulance service crews at the scene but did not need hospital treatment.
Canvey Station Commander Martin Pullen said: "The fire is being investigated but early indications are that it started in the garage and spread to the house.
"The incident is being treated as accidental at this time."