Leaking river lock near Bedford re-opens after repairs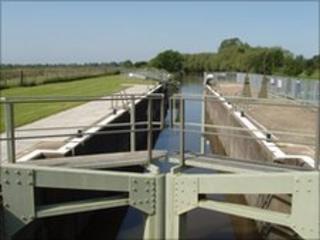 A lock on the Great Ouse river in Bedfordshire that was closed for emergency repairs has re-opened.
The Environment Agency closed Castle Mill Lock near Bedford on 14 June to allow the lock to be repaired.
The closure followed a spate of incidents in which boats became stuck during emptying and refilling as a result of a leak.
Talks took place with groups that used the river before the decision to close the lock was made.
Nathan Arnold, waterways team leader for the Great Ouse and Stour, said: "We have successfully carried out the repairs at Castle Mill Lock and are pleased to be able to re-open it well in time for the Bedford River Festival.
"We would like to thank boaters for their patience during these urgent works which we were forced to carry out during the height of the boating season."