NHS staff trained to spot victims of domestic abuse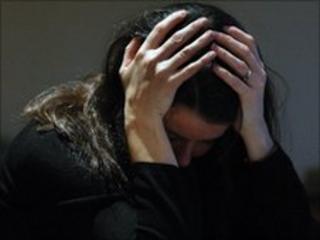 More than 5,000 NHS staff in Scotland will be trained to help victims of domestic abuse under a new initiative to tackle the problem.
Frontline staff will learn how to encourage people to open up about abuse they may be suffering at home.
Scotland is the first country in the UK to use the NHS to address domestic abuse, the Scottish government said.
Training will be given to midwives, mental health workers and A&E staff over the next 18 months.
Staff will learn how to initiate conversations about the issue in a sensitive way that will encourage victims to talk about their ordeal.
Health Secretary Nicola Sturgeon said the NHS had a "pivotal" role in helping to combat domestic abuse.
She said: "Often the health service is the first, or indeed only, service that victims will use either for themselves or their children.
"NHS staff should feel well equipped and confident about opening the door for people to talk about domestic abuse."
She added: "This early detection and a sympathetic response will help to protect victims and children and offer them the opportunity to access help and support to get their lives back on track."
A national NHS domestic abuse team has been put in place to support health boards to introduce the initiative by developing specialist training packages for staff, highlighting best practice and issuing national guidance.
Substance misuse, health visitors and sexual health professionals will also receive the training.
Communities Minister Alex Neil said it was vital to have a "co-ordinated and consistent" approach to offering support to victims.
"This will help ensure victims are met with a listening ear, have the confidence to tell someone what is happening and get the help and support they need," he added.