Come-to-Good Quaker house given £175,000 facelift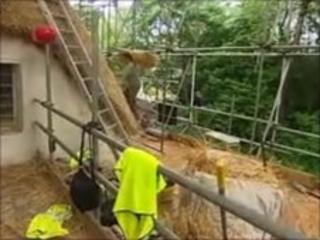 Work to refurbish an 18th Century Grade I listed Quaker meeting house in Cornwall is nearing completion.
The cob and thatch house at Come-to-Good near Truro, which is one of the best-loved properties in the county, was built in 1710.
The meeting house has been shrouded in plastic and scaffolding to allow the work to be carried out to the roof, walls and drainage.
The Come-to-Good congregation is between 10 and 20.
The meeting house was one of the first to be built in Cornwall for Quakers - also known as The Religious Society of Friends - who were not allowed to meet in public places and it has been in continuous use ever since.
Member Liz Olive said the meeting house was important to the entire congregation.
"There's a sense of continuity - anybody who visits Come-to-Good will realise it's a place that's been worshipped in for a long time," she told BBC News.
"It has a feeling of quiet and focus about it which is very special and that doesn't just come from its leafy surroundings."
Master thatcher Guy Moore said working on the roof of the historic house had been more than a job.
"It's one of the most iconic buildings in the county," he said.
"It's visited by people all over the world, and it's a privilege to be let loose on it."
It is hoped the refurbishment work, which has cost £175,000, should be finished by the end of August in time for its 300th anniversary.