Thousands join Jane Tomlinson 10km run in Leeds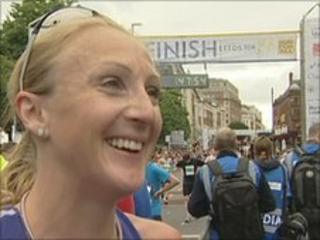 Thousands of people have taken part in a 10km run in Leeds set up by the late charity fundraiser Jane Tomlinson.
World marathon record holder Paula Radcliffe, who is seven months pregnant, was among about 10,000 people who set off from Millennium Square.
The event was run for the first time in June 2007, three months before Mrs Tomlinson died from cancer.
Radcliffe, 36, said she was overjoyed to be asked to take part by Mrs Tomlinson's widower Mike.
Fund-raising legacy
She said: "It's just brilliant what he's done since [Mrs Tomlinson's death], in continuing what she started with all the sponsorship raising and it's excellent to see so many people here today."
Radcliffe, who was recently made a patron of Mrs Tomlinson's charity, set the current world record for the women's marathon in London in 2003.
She jogged at Sunday's event because of her advanced pregnancy. Her second child is due in September.
She said: "Obviously my training's scaled back quite a lot, it's probably about a third of what it would normally be now but I'm still getting out and running every day.
"It's good for me... and it's good for the baby too.
"It's not hard running at the moment, it's just enjoying it."
Speaking before the race, Mr Tomlinson said it was "wonderful" to see the event get larger each year.
he said: "The atmosphere is electric. To see Paula here is a real privilege.
"Hopefully we can continue to get it bigger and bigger every year, it was always the aim.
"The point of getting it bigger is that we raise more money, that's the whole point of it."
Mrs Tomlinson raised £1.85m through a series of challenges as she fought her illness.
The fund-raising efforts have continued since her death and more than £3m has been raised to date by the Jane Tomlinson Appeal
The family set up the Leeds 10K to stand as her fund-raising legacy.