Liverpool fans stage a rally against Hicks and Gillett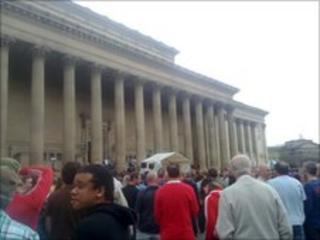 Fans of Liverpool Football Club have staged a city centre rally in protest against the club's American owners.
The Spirit of Shankly Union chose 4 July, American independence day, to protest against US owners Tom Hicks and George Gillett.
About 2,000 fans turned out to the rally outside St George`s Hall.
Speakers included former player and shareholder, John Aldridge and Bill Shankly's granddaughter Karen Gill.
Leaders of Spirit Of Shankly Liverpool Supporters' Union issued their own Declaration of Independence, outlining details of how supporters can buy the club through a partnership with a credit union.
The club is about £350m in debt and Spirit of Shankly has accused Mr Hicks and Mr Gillett of breaking promises and "a lack of understanding about running a football club".
Liverpool FC chairman, Martin Broughton, appointed in April has been tasked by the current owners with finding a buyer, but fans claim that Mr Hicks and Mr Gillett will put their financial interests ahead of the club's in seeking a new owner.
Spokesman James McKenna said: "It's an elephant in the room because you get a new manager, you get a new chief executive and you get a new chairman, and still the same issues exist.
"Ideally we'd like the supporters to be in charge and we'd like to be able to say we know about this job better than you do.
"We care about this club better than you do, so give us a chance as I'm sure we can do a better job than Tom Hicks and George Gillett."