Fire cargo ship salvage under way in Lochaber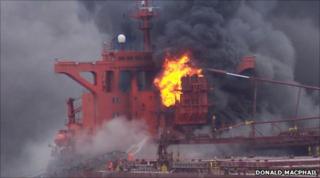 Efforts are under way to salvage a cargo vessel and eliminate any pollution risk after it caught fire off the west coast of Scotland.
Firefighters battled through the night to contain the blaze which broke out on the Yeoman Bontrup at the Glensanda pier on the Morven peninsula on Friday.
The fire was brought under control on Saturday evening and salvage experts are now assessing the damage.
The blaze broke out on a conveyor belt used to load cargo onto the vessel.
It spread to the ship and set off an explosion involving gas cylinders on board.
Because of Glensanda's remote location, emergency services had to travel to the peninsula by barge and RAF helicopter.
One member of the crew was taken to Oban Hospital for treatment to injuries which are not thought to be life threatening.
A number of others were also treated for the effects of smoke inhalation and for minor injuries.
The Maritime and Coastguard Agency said work had begun to salvage the 100,000 tonne bulk carrier.
Equipment is being flown in from Holland and pumps are being brought in from across the UK.
The scene is now under the control of the Secretaries of States Representative, Hugh Shaw, who has responsibility for shipping or offshore incidents on behalf of the Department of Transport and Department of Energy.
He said: "The seriousness of the fire and remoteness of the location have made this a difficult incident to resolve.
"The salvage company is now on scene and are working hard to stabilise the vessel and eliminate the pollution threat from the heavy fuel oil on board."