Scottish government stands by advice to free Megrahi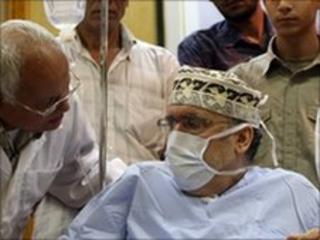 The Scottish government is standing by the medical advice on which it released the man convicted of the Lockerbie bombing.
It follows claims one cancer expert who gave Abdelbaset al-Megrahi a three-month prognosis last year has said he could survive for 10 years or more.
However, other newspaper reports said he was expected to die within weeks.
The Scottish government said Megrahi, who has prostate cancer, was freed on the basis of medical recommendations.
Megrahi was jailed in 2001 for the atrocity which claimed 270 lives in 1988.
He returned home to Libya after being released from prison last August.
Professor Karol Sikora had assessed Megrahi for the Libyan authorities and estimated he had three months to live.
But according to the Sunday Times, he has now said there was always a chance he could live for 10 or 20 years but that would be "very unusual".
Medical report
The newspaper reported Professor Sikora, dean of medicine at Buckingham University, had denied he came under any pressure from the Libyan authorities.
A spokesman for the Scottish government said: "Mr al-Megrahi has terminal prostate cancer.
"He was released on compassionate grounds and allowed home to die based on the medical report of the Scottish Prison Service Director of Health and the recommendations of the Parole Board and Prison Governor, all of which has been published by the Scottish government."